$3,450 GOLD: This Could Happen Quick – GET READY TO RUMBLE!
Gold has been a SUPER-IMPORTANT asset to own in the 21st century. Since January 1st 2000, its price has risen faster than most other BUY-AND-HOLD strategies and it has beaten general equities!
Throughout modern history (1812-2020), that type of prolonged outperformance is a rare feat. Stocks, which represent partial ownership of productive businesses, are BY DEFINITION a better investment than gold, since their value grows with time, so this is a major surprise to most, who have never considered owning REAL MONEY, gold.
Despite these inherent shortcomings of being just an element of nature, without ability to produce further value, gold has PROSPERED and has made investors, who hold a proportion of their net worth in it, RICHER than they would be in most other scenarios.
Compared to cash, gold has OUTPERFORMED by a wild factor. Think about the fact that the spot price just two decades ago was $250/ounce and it is now close to $1,650.
Between 1980 and 2000, the need to own a NON-PRODUCTIVE asset like gold, when both stocks and bonds were great wealth-generating vehicles, was minimal and gold CRASHED HARD.
The value-proposition of gold changed after the 9/11 attacks. Interest rates were SLASHED DRASTICALLY and for the first time under the fiat monetary system, both stocks and bonds were under pressure, CREATING ROOM for gold to be a safe haven.
Today, the entire planet is running MONSTROUS government deficits and in exchange, it nationalizes the government bonds markets, by having central banks monetize them. The fallacy and FRAGILITY of it is so noticeable that one doesn't need to add a SINGLE IOTA to the argument.
Because a novel virus such as Covid-19 can't be contained by any other PREDICTABLE measure, aside from social distancing, each country and its government have pursued the course of ENFORCED ECONOMIC RESET. This has been HEARTBREAKING to watch and is entering its worst phase, when the toll on households, small businesses and giant corporations is SCARY.
Look at the price we decided, collectively, as a society to pay, in order to contain the spread:
Courtesy: U.S. Global Investors
The initial panic in the markets was so GRAVE that the bear market took 16 days to occur. Think about that because it shows the most EXTREME CASE of distress that financial markets will probably undergo in our lifetimes.
Investors, the owners of stocks and real estate, have lost trillions in net worth and the average person has lost trillions in GDP productivity, which impacts his livelihood, his career, his quality of life and his cost of living.
The industries hit hardest will be CHANGED FOREVER.
The sole function of markets is to TRANSFER WEALTH from the uneducated to the educated, and they are pricing in a secondary shockwave.
They do not believe that all will be normal soon, as you can see in the rally of food stocks, compared with leisure-centered equities:
Courtesy: Zerohedge.com
March was the month of SPECULATION as to the severity of international shutdowns, whereas April is the month of REALITIES.
One by one, the dominoes will start falling, since the RESULTS of quarantines will be visible to all in the data released by research firms.
Again, you have to also assume that many of these REALITIES were discounted in advance. Nearly all investors are sitting on HOARDS OF CASH, the likes of which the world has never seen.
93% Of Investors Generate Annual Returns, Which Barely Beat Inflation.
Wealth Education and Investment Principles Are Hidden From Public Database On Purpose!
Build The Knowledge Base To Set Yourself Up For A Wealthy Retirement and Leverage The Relationships We Are Forming With Proven Small-Cap Management Teams To Hit Grand-Slams!
These types of charts, such as the one Citi just produced, are NOT SHOCKING to either congress or to institutional money.
These sharp declines look APOCALYPTIC, but the measures taken to offset their true impact have been stupendous and there's MORE TO COME.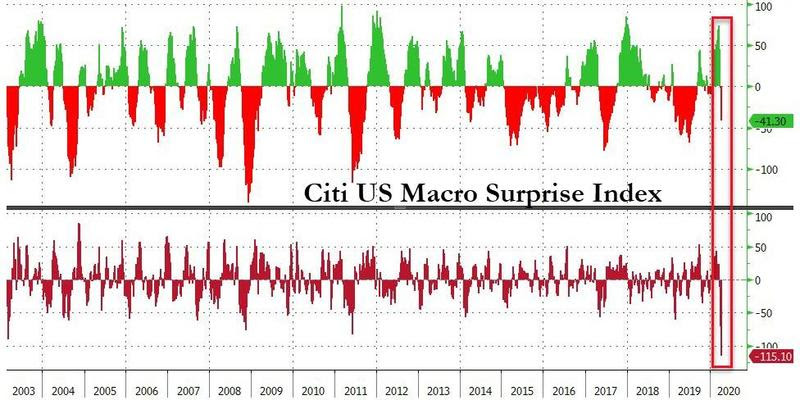 Courtesy: Zeorhedge.com
The U.S. economy is based on consumerism. 70% of GDP is predicated on Americans going shopping and SPENDING. Wealth and innovation are created by finding ways of effectively SERVICING the population's wants and needs.
Therefore, the machines must keep printing currency. Unlike 2008, the government STEPPED ON THE GAS quickly and implemented Helicopter Money, small business loans and thousands of grants.
Therefore, most investors are ABOUT TO dramatically increase their allocations towards gold. As opposed to 2008, we're not just putting new currency units in the hands of banks and then regulating the hell out of them; we're giving it to people, common folks, and they're going to use it on who knows what.
The Federal Reserve's balance sheet will reach $10T, at which point gold can hit $5,000/ounce, but even if it UNDERSHOOTS, just realize that its fair value today is already $3,450, according to its most closely-followed correlation.
Courtesy: Zerohedge.com
This is heaven for gold stocks investors, and it will BEGIN once the dollar truly reverses in a matter of weeks from now.
I plan to be heavily weighted in gold equities in 2020.
More specifics SOON!
Best Regards,


Lior Gantz
President, WealthResearchGroup.com
Governments Have Amassed ungodly Debt Piles and Have Promised Retirees Unreasonable Amounts of Entitlements, Not In Line with Income Tax Collections. The House of Cards Is Set To Be Worse than 2008! Rising Interest Rates Can Topple The Fiat Monetary Structure, Leaving Investors with Less Than Half of Their Equity Intact!
Protect Yourself Now, By Building A Fully-Hedged Financial Fortress!
Disclosure/Disclaimer:
We are not brokers, investment or financial advisers, and you should not rely on the information herein as investment advice. If you are seeking personal investment advice, please contact a qualified and registered broker, investment adviser or financial adviser. You should not make any investment decisions based on our communications. Our stock profiles are intended to highlight certain companies for YOUR further investigation; they are NOT recommendations. The securities issued by the companies we profile should be considered high risk and, if you do invest, you may lose your entire investment. Please do your own research before investing, including reading the companies' SEC filings, press releases, and risk disclosures. Information contained in this profile was provided by the company, extracted from SEC filings, company websites, and other publicly available sources. We believe the sources and information are accurate and reliable but we cannot guarantee it.
Please read our full disclaimer at WealthResearchGroup.com/disclaimer