CUT-THROAT VENDETTA: Market Hauled By THE ANKLES!
Not even FOUR MONTHS AGO, the Chinese government and the U.S. administration signed the HISTORIC Phase 1 trade deal. The biggest concern that markets had on the geopolitical front, ASIDE FROM BREXIT, was over.
Confidence in the future was on the rise and valuations HEADED HIGHER into all-time highs.
In fact, markets got so EUPHORIC that, pandemic or not, we were EMPHASIZING the importance of trimming down exposure and taking profits, regardless. COINCIDENTLY, just one month afterwards, in March 2020, the public panicked and CASHED-OUT.
Fear, not coronavirus, is the MOST CONTAGIOUS disease ever created. Fear lurks in the mind of every living being. Fear is an intense emotion, which PROMPTS ACTION. When your small child crosses the road and fails to notice an oncoming vehicle, if you notice it, FEAR REACHES EXTREME levels in milliseconds and you RUSH TO ACTION to save him/her.
Our ancestors used fear to their advantage in order to SURVIVE on this planet for millions of years. But fear can also lead you to make decisions that aren't to your advantage, resulting in DAMAGES.  
Life wasn't always as relatively comfortable as ours is today. Even as recently as 1966, more than 50% of the GLOBAL POPULATION got by on the equivalent of $2/day salaries.
Today, less than 9% of the world lives in this type of ABJECT POVERTY-STRICKEN condition!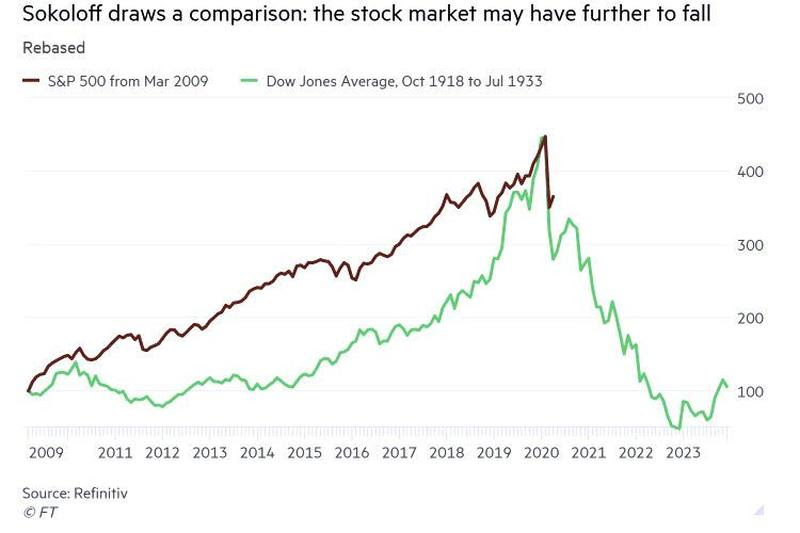 Courtesy: Zerohedge.com
One week ago, before this SELL-OFF began, we WARNED YOU about it!
We published a number of reports that a ROUND 2 was SUPER-LIKELY to occur and it has.
We even ISSUED a POTENTIAL BUY LIST; a select few of the featured companies are at or even within the buy range.
In the chart above, there's AN INSIDIOUS hint that the world in the 1918-1933 era ought to be compared, APPLES TO APPLES, with the 2009-2020 period.
It can't and it SHOULDN'T. While fear and greed still rule supreme, countless other things have evolved. Could the price of the Dow Jones Industrial Average fall by 89% as it did in The Great Depression? Many INTELLIGENT VOICES are sounding the alarm on that possibility, but I'm not one of them.
It took stocks until 1951 to GIVE BACK all of the losses suffered by the 1929 to 1933 crash – nearly two decades of gains to return to the price levels reached in 1931. The markets are NOTHING LIKE THAT today.
93% Of Investors Generate Annual Returns, Which Barely Beat Inflation.
Wealth Education and Investment Principles Are Hidden From Public Database On Purpose!
Build The Knowledge Base To Set Yourself Up For A Wealthy Retirement and Leverage The Relationships We Are Forming With Proven Small-Cap Management Teams To Hit Grand-Slams!
The control over the downside is ENORMOUS; some call it even RIGGED or socialized.
The Federal Reserve of 2020 is A BEAST. It almost FORBIDS recessions or large market declines. Even Warren Buffett acknowledged in his annual meeting that the FED is acting TOO FAST for investors to truly capitalize on the volatility.
Buffett is also aware that, in his own words, NO ONE knows the consequences of the actions of Jerome Powell and his GANG OF THIEVES on the future of banking and finance, but I can tell you one thing: BUFFETT ISN'T BULLISH in the near-term yet.
Courtesy: Zerohedge.com
He sees what we do. He sees more REAL-WORLD TROUBLE in the not-so-distant future and believes, although he doesn't ADMIT IT PUBLICLY, that the Federal Reserve's actions the next time around WON'T STOP bargains from emerging.
Unlike us, Berkshire holds the MAJORITY of its liquid cash in Treasuries. Berkshire has LOANED WASHINGTON $114B and it gets ALMOST NOTHING in return.
On the other hand, we hold most of our cash in GOLD and that's up 70% in the past five years and 11% this year alone. If gold was a stock, it would be ranked among the 25 BEST-PERFORMING companies in the world this year (in the S&P 500).
In fact, Newmont Mining is the No.1 stock on the planet in 2020, within the index.
Right now, Mike Pompeo, former director of the CIA and current Secretary of State, is publicly pointing the finger at China for concealing information early on and for making the problem worse.
Most people don't know this, but between 1959 and 1962, the Chinese government hid a GIANT SECRET from the world. Only 34 years later, in 1996, did the international community learn about what is now called The Great Chinese Famine.
It is estimated that a combination of DROUGHTS, FLOODING, a poor CENTRALIZED APPROACH to agriculture and an even worse CULTURE OF COVER-UPS sealed the fate of anywhere between 15-40 million hungry men, women and children, whose burials were CONCEALED.
Hatred towards China is hitting extremes. The U.S. may decide it is time to strike – the markets are NOT PREPARED for this. If there's one uncertainty, greater than anything else hovering above us, it is the return of FRICTION between West and East.
Best Regards,


Lior Gantz
President, WealthResearchGroup.com
Governments Have Amassed ungodly Debt Piles and Have Promised Retirees Unreasonable Amounts of Entitlements, Not In Line with Income Tax Collections. The House of Cards Is Set To Be Worse than 2008! Rising Interest Rates Can Topple The Fiat Monetary Structure, Leaving Investors with Less Than Half of Their Equity Intact!
Protect Yourself Now, By Building A Fully-Hedged Financial Fortress!
Disclosure/Disclaimer:
We are not brokers, investment or financial advisers, and you should not rely on the information herein as investment advice. We are a marketing company. If you are seeking personal investment advice, please contact a qualified and registered broker, investment adviser or financial adviser. You should not make any investment decisions based on our communications. Our stock profiles are intended to highlight certain companies for YOUR further investigation; they are NOT recommendations. The securities issued by the companies we profile should be considered high risk and, if you do invest, you may lose your entire investment. Please do your own research before investing, including reading the companies' SEC filings, press releases, and risk disclosures. Information contained in this profile was provided by the company, extracted from SEC filings, company websites, and other publicly available sources. We believe the sources and information are accurate and reliable but we cannot guarantee it. 
Please read our full disclaimer at WealthResearchGroup.com/disclaimer