POWDER KEG: Markets On Opium – STEAMROLLER COMING!
It might have been EXPECTED, but it is nonetheless SHOCKING and UNFORTUNATE to see it in OFFICIAL PRINT: the U.S. released its worst jobs report ever this past Friday!
20.5 million people lost their primary source of income in ONE MONTH; April 2020 has brought America to its knees. Markets SOARED during the time of the data announcements. Gold, an asset class, which rallies when unemployment rates go up, did gain, but only MODERATELY.
The VOLATILITY shifted towards the Fed Funds Rate, the official interest-rate policy set by the Federal Reserve. For the first time ever, bets on them are IMPLYING that they will be TURNING NEGATIVE by November 2020!
The central bank of the United States DOESN'T WANT negative rates; it has stated this publicly. It does not believe that negative rates are CONSTRUCTIVE for the U.S. economy, but PRESSURE IS BUILDING in that direction.
The reason is that the world's top investors believe that a SECOND ROUND is coming, not from the coronavirus, but for the HIDDEN DISTRESS of Small Business America. They're positioning empty buckets in the field, facing to the skies, knowing rain is coming. They're NOT IN A RUSH, since the clouds are visible and it's only a matter of time before the DELUGE of bankruptcies commences.
FREE MONEY, opportunities so great they only come along every century or so, WILL BE HERE!
Courtesy: Zerohedge.com
This chart goes back to WW2; DEMOGRAPHICALLY SPEAKING, it shows that there's never been any period quite like this. Tax rates for corporations will QUITE SURELY go up, since individuals can't HOLD THE BURDEN of the SHORTFALL of income for the federal government.
We're not talking about SPLITTING HAIRS here, either. The coronavirus health crisis has now turned into a global GENERAL HEALTH catastrophe. Many millions are stressed-out, delaying therapy, turning to alcohol as a means of passing time and it's estimated more people will die from the quarantines than from the virus.
In fact, what I believe will occur in the months ahead will SCAR THE WORLD for decades!
Any company that can borrow money right now for the short-term is doing so. Every institution that can stay in short-term bonds, at the moment, IS CHOOSING to do so.
This is a UNIVERSAL-SIZED SHAKEOUT!
In Europe, I envision TRUE CALAMITY, since the financial situation was dire even going into this. In some regions, riots could become part of the NEW NORMAL.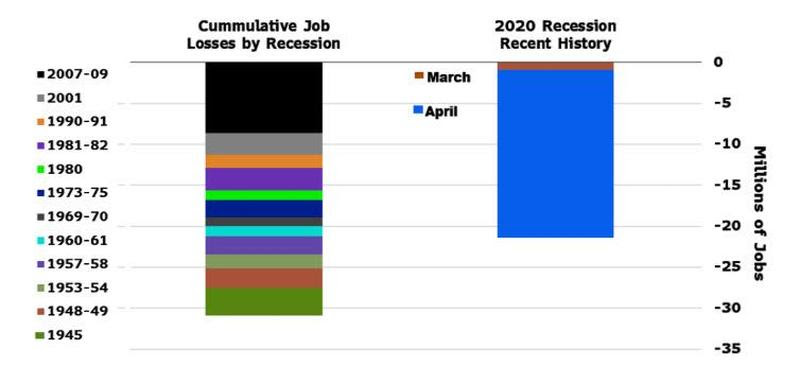 Right now, gold has TWO THINGS going for it:
NIRP coming: The bonds market is clear on this; STOCK MARKET valuations have turned TOO forward-looking and they're pricing in the full recovery and resumption of normalcy, which could be 18-24 months away or more.
Bond investors are SPECULATING that this will not occur SMOOTHLY:
93% Of Investors Generate Annual Returns, Which Barely Beat Inflation.
Wealth Education and Investment Principles Are Hidden From Public Database On Purpose!
Build The Knowledge Base To Set Yourself Up For A Wealthy Retirement and Leverage The Relationships We Are Forming With Proven Small-Cap Management Teams To Hit Grand-Slams!
Courtesy: Zerohedge.com
Lower official rates are BEAUTIFUL for gold; they also explain the rationale behind HIGHER VALUATIONS for stocks. In other words, the buying opportunity is in GOLD, not stocks, since the markets has chosen to price in lower rates and higher inflation only in stocks, but not in precious metals yet.
The ULTIMATE PROOF of this is that silver has DONE NOTHING yet to show how investors are betting on inflation and a lower dollar. Its price hasn't risen at all.
Secondly, our FAVORITE way to own gold, the GDX index, is STILL 47% BELOW its 2011 record peak! It is trading at a 7-YR HIGH and has generated nearly a 200% return since our initial alert in 2016, but still has tremendous upside.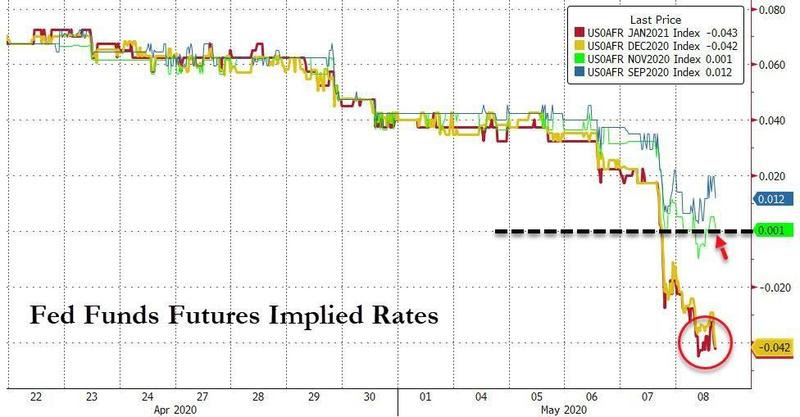 It gets BETTER, though, since GDX measures large-cap and mid-tier gold companies, but there's a SEPARATE index for the juniors called the GDXJ. The companies that comprise that index are far smaller, more volatile and their health is CONNECTED to how much the large-cap miners are cashed-up and ready to bet big on them and acquire projects from them.
That index has not even SURPASSED its 2016 high when gold's price was $1,340, not $1,740 (as it is today), and IT IS NOWHERE NEAR its 2011 highs.
Think about that; the index that is most INDICATIVE of whether or not the gold sector is in a bubble is 75% BELOW its all-time high. The gold junior segment, as a whole, would have to RISE BY 300%, a 4-fold increase, to get back to those levels. Clearly, gold is not in a bubble at all.
We are OBVIOUSLY at the START of the uptrend!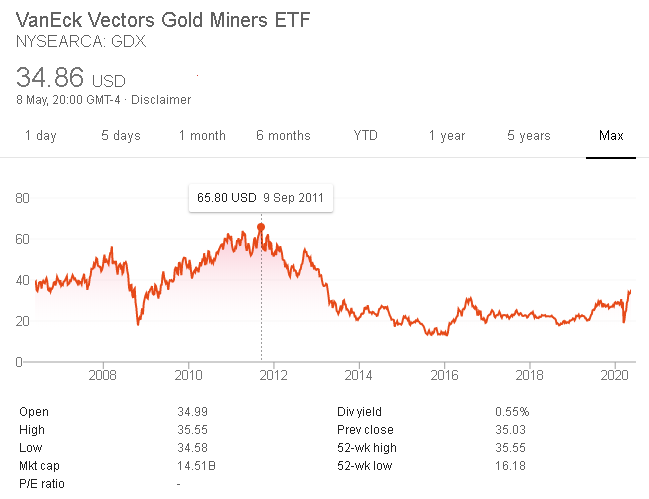 If you WANT ACTION, all you have to do is wait and see the FIREWORKS SHOW that this sector is about to deliver.
We are on the cusp of EXTRAORDINARY returns.
This is the real thing; the main event.
BUCKLE UP!
Best Regards,


Lior Gantz
President, WealthResearchGroup.com
Governments Have Amassed ungodly Debt Piles and Have Promised Retirees Unreasonable Amounts of Entitlements, Not In Line with Income Tax Collections. The House of Cards Is Set To Be Worse than 2008! Rising Interest Rates Can Topple The Fiat Monetary Structure, Leaving Investors with Less Than Half of Their Equity Intact!
Protect Yourself Now, By Building A Fully-Hedged Financial Fortress!
Disclosure/Disclaimer:
We are not brokers, investment or financial advisers, and you should not rely on the information herein as investment advice. We are a marketing company. If you are seeking personal investment advice, please contact a qualified and registered broker, investment adviser or financial adviser. You should not make any investment decisions based on our communications. Our stock profiles are intended to highlight certain companies for YOUR further investigation; they are NOT recommendations. The securities issued by the companies we profile should be considered high risk and, if you do invest, you may lose your entire investment. Please do your own research before investing, including reading the companies' SEC filings, press releases, and risk disclosures. Information contained in this profile was provided by the company, extracted from SEC filings, company websites, and other publicly available sources. We believe the sources and information are accurate and reliable but we cannot guarantee it. 
Please read our full disclaimer at WealthResearchGroup.com/disclaimer