This past Wednesday, the FOMC meeting decided to raise interest rates by 0.25%. It was priced in, well received, and no one questioned the need to make sure inflation keeps trending down in the face of a job market that has been very resilient to aggressive rate hikes.
In other words, the least interesting fact about the meeting was the actual hike, which was not a surprise at all.
Powell's Q&A session did reveal several key trains of thought and a massive opportunity in gold (more upside even as the metal is celebrating all-time highs against virtually all fiat currencies around the globe), and we want to briefly explain why and how (and when).
When asked by reporters about inflation and the robust job market, Powell said that it will require higher rates for longer than anyone originally thought and that the notion of cutting interest rates isn't on the table at all.
If any of you remember September through December 2018, you know that when Powell thinks one thing and telegraphs (announces to the world) another, it is because it is too early for the Federal Reserve, as the world's most influential financial institution, to acknowledge the truth. Therefore, the chairman willingly favors looking out of touch with reality to avoid creating panic or euphoria.
A simple example of this would be when a parent has bought their child a gift but stipulates that they can only receive it after they have done their homework, cleaned their room, showered, and brushed their teeth. They know deep down that they'd still give it to them even if the child doesn't do all of this, but they portray it differently to the child.
We believe that Powell knows the true state of the banking sector and prioritizes saying the crisis is contained (for now) even though more banks and financial institutions will come under fire if rates remain at 5.00% for long.
If we're right – and the futures contracts in FED interest rate probabilities say we are – a rate cut will come as soon as July or by September at the latest.
That's gold's biggest and most incredible catalyst.
93% Of Investors Generate Annual Returns, Which Barely Beat Inflation.
Wealth Education and Investment Principles Are Hidden From Public Database On Purpose!
Build The Knowledge Base To Set Yourself Up For A Wealthy Retirement and Leverage The Relationships We Are Forming With Proven Small-Cap Management Teams To Hit Grand-Slams!
No need to panic, according to Jerome, but I think we can all see the writing on the wall.
CEOs and CFOs, across the spectrum, have made incredible progress towards aligning their business model to the times, and real estate developers and portfolio managers have done the same.
Everywhere I look, business leaders are working day and night to make sure they have a business structure that can thrive in a world of high inflation and credit tightening.
Entrepreneurs are doing everything in their power to get through this, so as we continue to see more banks struggling, it tells you one thing: The FED is probably over-tightening at this point.
I mean, just look at the flood, the absolute rush to money market accounts!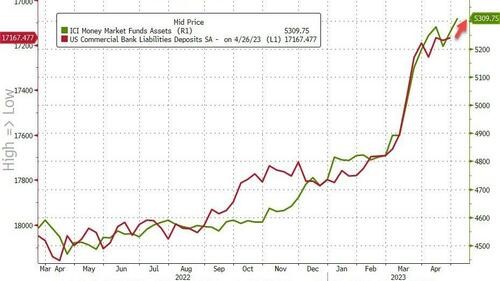 Courtesy: Zerohedge.com, Bloomberg
What's my point? Well, it's simple.
We've been added to a credit event that will force the FED to cut rates and that's the best news for gold. The best!
Powell has made no fuss over admitting that this is his favorite indicator to watch and it's screaming at him that the FED has done enough to change the behavior from euphoric to pragmatic:
Best Regards,



Lior Gantz
President, WealthResearchGroup.com
Governments Have Amassed ungodly Debt Piles and Have Promised Retirees Unreasonable Amounts of Entitlements, Not In Line with Income Tax Collections. The House of Cards Is Set To Be Worse than 2008! Rising Interest Rates Can Topple The Fiat Monetary Structure, Leaving Investors with Less Than Half of Their Equity Intact!
Protect Yourself Now, By Building A Fully-Hedged Financial Fortress!
Disclosure/Disclaimer:
We are not brokers, investment or financial advisers, and you should not rely on the information herein as investment advice. We are a marketing company. If you are seeking personal investment advice, please contact a qualified and registered broker, investment adviser or financial adviser. You should not make any investment decisions based on our communications. Our stock profiles are intended to highlight certain companies for YOUR further investigation; they are NOT recommendations. The securities issued by the companies we profile should be considered high risk and, if you do invest, you may lose your entire investment. Please do your own research before investing, including reading the companies' SEC filings, press releases, and risk disclosures. Information contained in this profile was provided by the company, extracted from SEC filings, company websites, and other publicly available sources. We believe the sources and information are accurate and reliable but we cannot guarantee it.
Please read our full disclaimer at WealthResearchGroup.com/disclaimer