Teamwork Sprit: Success through Organization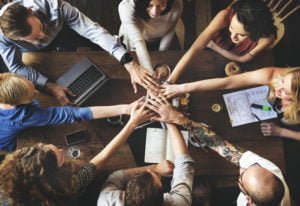 The only way to make the struggle for success fun and enjoyable is to do it while inspiring cooperation.
Unselfish action will result in great personal success and will bring satisfaction to you when others around you achieve success as well.
Importance of Teamwork
In your Wealth Team are those who share your desire to achieve your major goal, and by applying teamwork spirit, you gain access to the skills, strengths, imagination, and knowledge of as many professionals as you wish to hire.
This allows you to concentrate on what you do best, while letting others give you their best – this is maximum efficiency.
Keys to Profitable Teamwork
1. Generosity: Rewarding your people is a sure-fire way to get the job done with high quality, on time, and with your brand as their pillar.
2. Throttle-Based: One of the best ways to keep teamwork vibrant and energetic is not to overwhelm the members. Assign work with a throttle analogy in mind – only hit the full gas when you must.
3. Strong Relationships: Don't be "all work, no play." I always mix things up; occasionally share with team members some personal jokes,, family pictures, or just childhood stories. Also, you might want to treat them to dinner or invite them over. This builds trust easily.
4. Feeling of Partnership: Team members should feel like what they do is important and an integral piece of the puzzle. Make them aware their role is necessary for the company's operations. Give team members the sense that they are partners – listen to their ideas and recognize their efforts.
Teamwork is hard to maintain and takes constant refining, but the benefits are well worth it.