The last time I purchased physical gold was in September 2018.
In March 2018, the market's expectation that the FED would continue to raise rates throughout the year elevated real yields. Gold cratered, finally bottoming at $1,180 (I paid $1,200 for 50 Eagles).
I was lucky to catch a bottom.
Stocks peaked a couple of days after gold bottomed out. From September 2018 to December of that year, stocks suffered the worst Q4 since 1929 as the market discounted stocks in a world of +2% FED Funds Rates.
It was only after Powell reversed course in his infamous monetary U-turn that stocks rallied again.
Bond yields have surged the most in one year since 1969! That's prior to the creation of the fiat monetary system and another acknowledgement that gold's sell-off is clearing any and all weak hands.
Courtesy: Zerohedge.com
What's happening in 2023 is nothing short of a once-in-fifty-year event, and it means that either the market will have to aggressively reprice the value of stocks or governments and central banks will have to intervene.
Because of deglobalization, the Chinese are dumping Treasuries as they continue to lessen their dependence on trade and exports. The Japanese (largest holders of U.S. debt) are also liquidating their hoard as they attempt to exit their 30-year deflationary era and must replace foreign holdings with their local currency in order to support it.
The Europeans are the ones buying dollars and becoming a much more important trade and commerce partner to the Americans than at any other point in the past 80 years.
The most critical aspect of this reset in the ownership of U.S. debt and the cost of credit is that stocks and bonds no longer trade as a hedge to one another.
Stocks have gone done while bonds have fallen, and that is creating chaos on Wall Street.
This is why Wall Street is as short as ever!
93% Of Investors Generate Annual Returns, Which Barely Beat Inflation.
Wealth Education and Investment Principles Are Hidden From Public Database On Purpose!
Build The Knowledge Base To Set Yourself Up For A Wealthy Retirement and Leverage The Relationships We Are Forming With Proven Small-Cap Management Teams To Hit Grand-Slams!
I love these extremes because they create situations where Wall Street must act in a highly predictable fashion.
Gold is likely to see a major liquidation day, and I will be buying physical bullion on that day for the first time in five years!
When I see the helplessness of the Federal Reserve on taming the inflationary forces of deglobalization, I realize that with peak hawkishness in the rearview mirror, we are about to see a bottom formation that is remarkable and will allow an entry point that may not ever return (just like $1,200/ounce in September 2018 never came back!)
​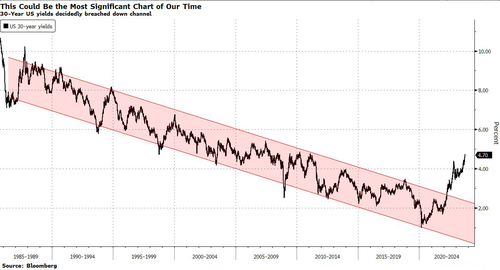 Courtesy: Zerohedge.com
I leave you with this because it's what's actually keeping all money managers up at night…
The 41-year bull market in long-term Treasuries is over. Unless you've got a backtesting system that goes back to a time when fiat monetary currencies were legal tender and interest rates were rising, there is NO PLAYBOOK for this!
Bonds are oversold, stocks are oversold, gold is oversold, real estate is underbought, and everyone you know has savings in a money market account… a world we have yet to experience.
Best Regards,



Lior Gantz
President, WealthResearchGroup.com
Governments Have Amassed ungodly Debt Piles and Have Promised Retirees Unreasonable Amounts of Entitlements, Not In Line with Income Tax Collections. The House of Cards Is Set To Be Worse than 2008! Rising Interest Rates Can Topple The Fiat Monetary Structure, Leaving Investors with Less Than Half of Their Equity Intact!
Protect Yourself Now, By Building A Fully-Hedged Financial Fortress!
Disclosure/Disclaimer:
We are not brokers, investment or financial advisers, and you should not rely on the information herein as investment advice. We are a marketing company. If you are seeking personal investment advice, please contact a qualified and registered broker, investment adviser or financial adviser. You should not make any investment decisions based on our communications. Our stock profiles are intended to highlight certain companies for YOUR further investigation; they are NOT recommendations. The securities issued by the companies we profile should be considered high risk and, if you do invest, you may lose your entire investment. Please do your own research before investing, including reading the companies' SEC filings, press releases, and risk disclosures. Information contained in this profile was provided by the company, extracted from SEC filings, company websites, and other publicly available sources. We believe the sources and information are accurate and reliable but we cannot guarantee it.
Please read our full disclaimer at WealthResearchGroup.com/disclaimer