Once Outlawed, Now an Industrial Giant: BIG YIELD from Legal Cannabis!
Sizable moves in stock prices seem to happen overnight, but one thing I've learned from decades of investing experience is that the seeds of big changes take time to grow. This is certainly the case with the cannabis legalization movement and with marijuana stocks generally, which have indeed made big moves but required a great deal of patience in the early years.
That's how investing works in most instances: it seems like nothing much is happening, and then suddenly there's an explosion in the price – and early movers are rewarded handsomely.
To put some perspective on just how far the cannabis market's incredible journey has progressed, we can examine the North American marijuana index from 2016 to 2018:
Courtesy of marijuanaindex.com
As we can see, sideways price action has consistently been followed by big jumps; again, patient investors reap the greatest rewards. During the sideways periods, progress is still being made within the larger cannabis industry as attitudes shift among the populace and governments ease restrictions on how the plant can be legally used for medicinal and adult recreational uses.
Over the years we have seen the community take control of the narrative surrounding marijuana legalization, wresting it from the voices of paranoia and propaganda.
As tolerance and advocacy prevail in the legalization movement, new markets and new investment opportunities emerge. Innovative leaders within the field will generate fantastic yield for investors who get in at the right time.
In the United States alone, the total economic impact of the cannabis industry is projected to reach an astonishing $44 billion by the year 2020:
Courtesy of Marijuana Business Factbook
These projections are a reflection of the cannabis market's march towards mainstream acceptance and profitability. Once reviled, the marijuana market has emerged from the shadows to become a respected industry that is generating large numbers of jobs and businesses – with a ripple effect in the equities markets around the world.
For the benefit of investors, Wealth Research Group has been searching high and low for the best way to capitalize on this massive economic force. What we've been seeking for a long time is a pure play in the legalized cannabis space – a company that takes the best elements of the entire market and synthesizes them into one perfect investing opportunity.
Our research has paid off big-time, as we have chosen C21 Investments Inc. (CSE:CXXI) as our number-one pick in the legalized cannabis market. C21 is a Vancouver-based corporation focused on the cultivation, manufacturing, processing, and distribution of quality cannabis throughout the United States, including non-hemp derived CBD products which are distributable throughout North America and the international markets. It's my personal pick for fantastic returns in this multi-billion-dollar emerging industry.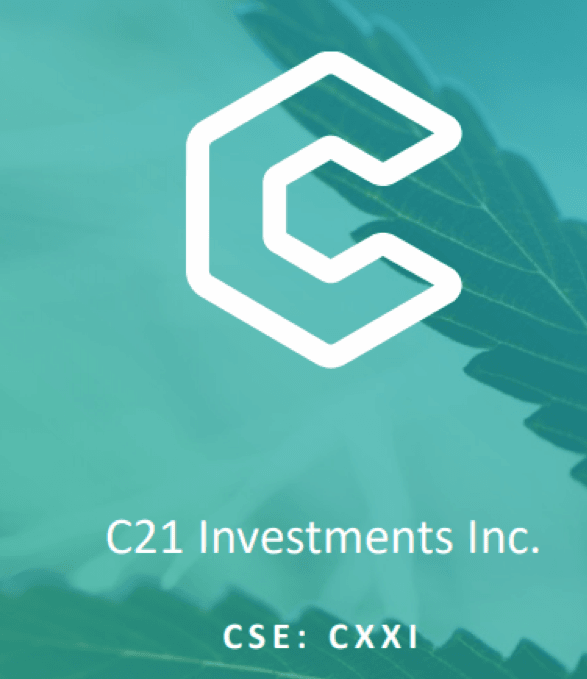 The niche C21 Investments Inc. implements better than anyone else is make value-added acquisitions along the full spectrum of the cannabis space, capturing profit margins through the entire value chain. As a recent example, investors were delighted recently to learn that C21 announced a strategic partnership and investment of expansion capital into Phantom Venture Group and Phantom Farms in the Rouge Valley of Southern Oregon.
According to this agreement, C21 will acquire a full 100% of Phantom Farm's membership units as well as the current Phantom Farm management team.
This is a huge and highly promising acquisition, as Phantom Farm's outdoor operation cultivates 80,000 square feet of high-quality cannabis and will undergo a further expansion of 40,000 square feet in 2018.
All of our research makes it abundantly clear that the greatest returns will go to investors who move quickly into the legalized cannabis space.
By taking a position in C21 Investments Inc. and CXXI stock, investors will have the perfect position in a market that's bound for glory.
Best Regards,


Lior Gantz
President, WealthResearchGroup.com
Legal Notice: The ideas, projections and views expressed are those of WealthResearchGroup.com and are not ideas, views or recommendations of Globalive or any of its officers or directors. Any forward looking statements are based on our assumptions, projections, beliefs and expectations, however, there is no guarantee that these statements will prove to be correct and are subject to risks and uncertainties. This work refers to joint ventures or investments that Globalive is a party to. Some of the joint ventures may be subject to further negotiation or documentation. Never base any decision off of our emails. CrushTheStreet.com stock profiles are intended to be stock ideas, NOT recommendations. The ideas we present are high risk and you can lose your entire investment, we are not stock pickers, market timers, investment advisers, and you should not base any investment decision off our website, emails, videos, or anything we publish. Please do your own research before investing. It is crucial that you at least look at current public filings and read the latest press releases. Information contained in this profile was extracted from current documents filed with the public, the company web site and other publicly available sources deemed reliable. Never base any investment decision from information contained in our website or emails or any or our publications. Our report is not intended to be, nor should it be construed as an offer to buy or sell, or a solicitation of an offer to buy or sell securities, or as a recommendation to purchase anything. This publication may provide the addresses or contain hyperlinks to websites; we disclaim any responsibility for the content of any such other websites. We were paid three hundred thousand and one million eight hundred thousand RSU's, we also participated in a private placement for two hundred thousand shares that are currently restricted to the four month financing hold. Please use our site as a place to get ideas. Enjoy our videos and news analysis, but never make an investment decision off of anything we say. Please read our full disclaimer at www.wealthresearchgroup.com/disclaimer