LYNETTE ZANG: "This Is My Personal ECONOMIC RESET Gold Strategy"
From the way the talking heads on television are framing it, you'd think gold and silver will never recover from their current doldrums. Undoubtedly there's been price pressure, along with a likely dose of "intervention" from the government and big banks. But is this a secular bear market really, and can we expect precious metals to come up for air anytime soon?
Tough questions deserve thoughtful answers, so Wealth Research Group turned to precious metals expert and monetary historian Lynette Zang of ITM Trading, located on the web at ITMTrading.com. Wealth Research Group strongly encourages you to read Ms. Zang's valuable educational posts on her page at ITMTrading.com and watch her videos on the popular ITM Trading YouTube channel.
In 1964, Lynette Zang began her studies on gold and collectibles via her uncle, a high-end antique dealer in New York. Ms. Zang's father was a real estate developer in Kingston, New York, and with his contacts in local commercial banking, Lynette began her banking career at 15. Following a college education concentrating on business finance, Lynette Zang remained in commercial banking until 1986, when she shifted to investment banking with Larson Lehman/American Express and became a stock broker.
Initially, Ms. Zang focused her attention on the government bond market, learning the nuances of debt and interest rate moves on bond maturities. In that capacity, she stumbled across non-dollar-denominated bonds and added the currency dimension. This led to the discovery of currency life cycle patterns and a deep understanding of the impact of those life cycles on all socioeconomic levels and asset classes.
Courtesy of Lynette Zang, Twitter
Lynette Zang's mission is to translate financial noise into understandable language and enable educated, independent choices. Her work is fact- and evidence-based, and Ms. Zang shares these tools openly. Lynette strongly believes that we need to be as independent as possible and at the same time, we need to come together in community to survive and thrive through the hyperinflation that she sees in the near future.
93% Of Investors Generate Annual Returns, Which Barely Beat Inflation.
Wealth Education and Investment Principles Are Hidden From Public Database On Purpose!
Build The Knowledge Base To Set Yourself Up For A Wealthy Retirement and Leverage The Relationships We Are Forming With Proven Small-Cap Management Teams To Hit Grand-Slams!
Wealth Research Group expected frank and honest talk from Ms. Zang, and of course that's precisely what she delivered in our interview. To begin with, Lynette made it clear that she does not treat gold and silver as a trading vehicle, which is what the paper versions are better suited for. However, what she does see in the long-term gold and silver charts is a very rare formation.
In particular, according to Lynette Zang, she is seeing a double cup formation; this is a pattern that she has seldom seen in the spot gold market. Ms. Zang explains that this is an accumulation pattern that tells us that the smart money has recognized a severely undervalued circumstance… and they have very quietly begun to accumulate.
That, according to Lynette Zang, is when you'll start to hear questions like, "Is gold in a bear market?" and you'll hear bearish comments on gold and silver. And when the sentiment is really negative like it is now, that's a really good time to consider a position in these precious metals. As Ms. Zang describes it, when you see that cup formation, that's when you want to accumulate.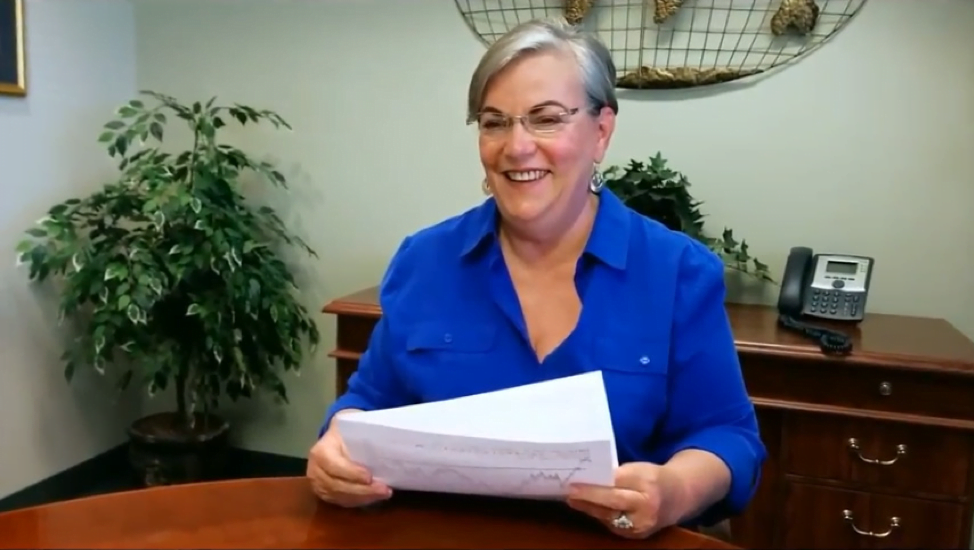 Courtesy of ITMTrading.com
It's really all about recognizing patterns, according to Lynette Zang, because that really gives you guidance as to where you are and what the truth is. However, you would also use other factors to support what you're looking at with these patterns; furthermore, you should also bear in mind what you're trying to accomplish.
But regardless of what your financial objectives might be, it's important to maintain your purchasing power – and that's exactly what gold has done over the centuries. According to Lynette Zang, gold has historically held its purchasing power many times, and that's why for her, gold is not a short-term trade.
This is not the first time that Wealth Research Group has spoken with Lynette Zang, and we hope to have the opportunity to tap into her wisdom many more times. Don't forget to visit ITM Trading at ITMTrading.com and read Ms. Zang's many posts on her page at ITMTrading.com. We also want to remind you that there are a multitude of educational resources at Wealth Research Group: there's our full report on The 5 Essential Steps to Financial Independence, our Ultimate Report on Safe-Haven Assets so you can protect yourself during the coming economic reset, as well as Wealth Research Group's personal Quintessential Gold and Silver Stock Playbook to help you navigate the current precious metals market.
Best Regards,


Lior Gantz
President, WealthResearchGroup.com
Governments Have Amassed ungodly Debt Piles and Have Promised Retirees Unreasonable Amounts of Entitlements, Not In Line with Income Tax Collections. The House of Cards Is Set To Be Worse than 2008! Rising Interest Rates Can Topple The Fiat Monetary Structure, Leaving Investors with Less Than Half of Their Equity Intact!
Protect Yourself Now, By Building A Fully-Hedged Financial Fortress!
Legal Notice:
This work is based on SEC filings, current events, interviews, corporate press releases and what we've learned as financial journalists. It may contain errors and you shouldn't make any investment decision based solely on what you read here. It's your money and your responsibility. Information contained in this profile was extracted from current documents filed with the SEC, the company web site and other publicly available sources deemed reliable. The information herein is not intended to be personal legal or investment advice and may not be appropriate or applicable for all readers. If personal advice is needed, the services of a qualified legal, investment or tax professional should be sought.
Please read our full disclaimer at WealthResearchGroup.com/disclaimer