NOT DONE YET: Trump Cooking Up MAJOR BOMBSHELL!
In 2019, the Federal Reserve's stimulus packages – which SHOCKED the markets, since they represented a full U-turn in terms of policy, compared to the aggressive tightening in 2018 – were one of the primary reasons that the stock market soared by so much.
On multiple occasions throughout 2019, stocks hit new all-time highs. In the 4th quarter, this really intensified and reached historic rally levels. Stocks were green almost on a daily basis.
The FED's balance sheet expansion is one of the major catalysts, as well as the pro-growth Phase 1 deal that China and the U.S. signed yesterday for the willingness of buyers to pay higher prices.
The result is that the stock market is now the most expensive ever, as far as price/sales ratio goes:
Courtesy: Zerohedge.com
This isn't a good sign for stocks, nor for the economy, in general. To me, it means that these artificially-low interest rates are causing investment firms to purchase stocks, even though they don't really want to, as well as prompting CFOs to issue large buyback programs over spending funds on machinery, research and growth.
The lack of viable alternatives for the trillions of dollars in managed money is creating a situation in which fund managers are acting out of necessity, not out of pure reasoning.
93% Of Investors Generate Annual Returns, Which Barely Beat Inflation.
Wealth Education and Investment Principles Are Hidden From Public Database On Purpose!
Build The Knowledge Base To Set Yourself Up For A Wealthy Retirement and Leverage The Relationships We Are Forming With Proven Small-Cap Management Teams To Hit Grand-Slams!
Warren Buffett, who isn't under any pressure to make any moves, has patiently amassed an enormous cash position, which will surely serve shareholders when the time comes to buy big.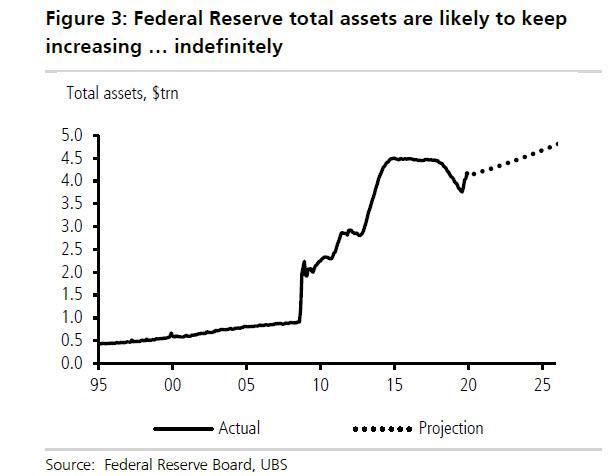 Courtesy: Zerohedge.com
As you can see, the FED is not trigger-shy on its unofficial QE4 plan.
Everyone's been focused on this monetary easing, but the Trump administration is preparing a tsunami of fiscal stimulus in the form of another round of tax cuts for the middle class and lower-income demographics – and they plan to roll it out in 2020!
This means that, on top of the already $1.1T deficit, tax receipts are set to decline dramatically.
The monstrous economic engine, the boom in the markets, the low unemployment rate, the confidence of consumers; all of these are what Trump is banking on to get re-elected.
It seems Trump is looking to make all voters know, right around the time of elections, that he is ready to take drastic measures to let the free enterprise system work, by reducing taxes.
Obviously, if he is re-elected, he'll have to focus on balancing the budget, which is a whole other major topic.
Best Regards,


Lior Gantz
President, WealthResearchGroup.com
Governments Have Amassed ungodly Debt Piles and Have Promised Retirees Unreasonable Amounts of Entitlements, Not In Line with Income Tax Collections. The House of Cards Is Set To Be Worse than 2008! Rising Interest Rates Can Topple The Fiat Monetary Structure, Leaving Investors with Less Than Half of Their Equity Intact!
Protect Yourself Now, By Building A Fully-Hedged Financial Fortress!
Legal Notice:
This work is based on SEC filings, current events, interviews, corporate press releases and what we've learned as financial journalists. It may contain errors and you shouldn't make any investment decision based solely on what you read here. It's your money and your responsibility. Information contained in this profile was extracted from current documents filed with the SEC, the company web site and other publicly available sources deemed reliable. The information herein is not intended to be personal legal or investment advice and may not be appropriate or applicable for all readers. If personal advice is needed, the services of a qualified legal, investment or tax professional should be sought.
Please read our full disclaimer at WealthResearchGroup.com/disclaimer