FED IN A PANIC: Jim Rogers on Who's REALLY in Charge of the Markets
Talk about a complete change of tune: in October the Fed said we're a "long way from normal" in terms of rates, suggesting that they were preparing to raise interest rates. But then, after the stock market dropped 20%, there was talk of zero rate hikes or even rate cuts this year. So who's really in control here: the Fed, or the stock market?
Given his long-standing stature and reputation in the investing community, Wealth Research Group sought the wisdom of legendary financial commentator Jim Rogers on this topic. He is the legendary investor who co-founded The Quantum Fund, which rose over 4,000% in 10 years and allowed him to retire at the age of 37.
Mr. Jim Rogers is also the creator of the Rogers International Commodities Index (RICI) and the Chairman of Rogers Holdings. Regarded by the business world as a brilliant investor as well as an astute and incisive author and financial commentator, Jim Rogers displayed a knack for business early on; his first endeavor included selling peanuts and picking up empty bottles left behind by fans at baseball games.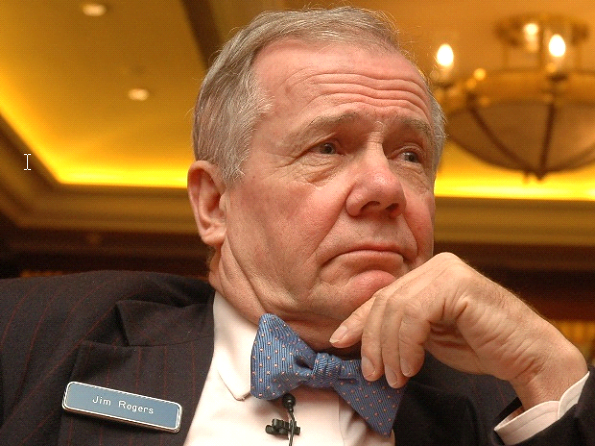 Courtesy: Jim Rogers
After his schooling, Jim Rogers went to Yale University, where he graduated with a degree in history in 1964. He then went to Oxford University to pursue a second B.A. degree. He earned his degree in philosophy, politics and economics in 1966.
With the Quantum Fund in 1973, Mr. Rogers built a tremendously successful international hedge fund and was not only able to retire early, but was also able to fulfill his lifelong dream of traveling the world by motorcycle, covering over 100,000 miles across six continents. Nowadays, Jim Rogers can be seen and heard expressing his financial views on numerous media platforms..
93% Of Investors Generate Annual Returns, Which Barely Beat Inflation.
Wealth Education and Investment Principles Are Hidden From Public Database On Purpose!
Build The Knowledge Base To Set Yourself Up For A Wealthy Retirement and Leverage The Relationships We Are Forming With Proven Small-Cap Management Teams To Hit Grand-Slams!
Because Mr. Jim Rogers is well versed in the workings of the Fed and the stock market, Wealth Research Group asked him who he thinks is really in control here. According to Jim Rogers, we need to first understand that the people at the Fed are essentially bureaucrats and academics: they don't know much about the world, markets, or anything else of importance
Courtesy: Jim Rogers
They do, however, know about preserving their own jobs, according to Jim Rogers, and when investors get scared and say that the Fed needs to save them, the Fed doesn't know what to do – they panic and they do whatever it takes to appease the markets.
It's the wrong thing to do, and the fact is that we've had very few really good central bankers in America in the past 106 years, according to Jim Rogers. The way the Federal Reserve is controlled by market sentiment isn't good for America or the world – it's only good for keeping their jobs.
Naturally, if the market does well because the Fed is keeping interest rates low, the government will take credit for it. And if the market doesn't do well, the government can blame the Fed and other scapegoats for this.
Meanwhile, the government continues to spend money faster than ever, according to Jim Rogers, and the debt is skyrocketing – but for now, things seem pretty good with low reported unemployment figures. In the succinct words of Jim Rogers, people enjoy a free lunch.
Courtesy: Jim Rogers
But the debt will drag us down – at the national level, at the company level, and at the individual level. America is not, and will not be, what it was before because we have become the largest debtor nation in the world. And it's not just an American problem: economies are slowing down around the world, according to Jim Rogers, and at some point this will all end very badly.
It was an honor to speak with Jim Rogers, and we consider Wealth Research Group's interview with him to be among our very best, so don't miss out on this important presentation. In addition, we strongly encourage you to visit Jim Rogers' official website, JimRogers.com, for more of his essential insights.
There's a veritable treasure chest of information and analysis to be discovered in Wealth Research Group's latest offering of economic reports, which include our Ultimate Report on Safe-Haven Assets so you can protect yourself in these uncertain times, our urgent report on how state-issued currencies will topple the U.S. dollar, plus our Middle Class Demise: Escape the Clutches report to help educate and prepare you for the nation's growing wealth gap.
Best Regards,


Lior Gantz
President, WealthResearchGroup.com
Governments Have Amassed ungodly Debt Piles and Have Promised Retirees Unreasonable Amounts of Entitlements, Not In Line with Income Tax Collections. The House of Cards Is Set To Be Worse than 2008! Rising Interest Rates Can Topple The Fiat Monetary Structure, Leaving Investors with Less Than Half of Their Equity Intact!
Protect Yourself Now, By Building A Fully-Hedged Financial Fortress!
Legal Notice:
This work is based on SEC filings, current events, interviews, corporate press releases and what we've learned as financial journalists. It may contain errors and you shouldn't make any investment decision based solely on what you read here. It's your money and your responsibility. Information contained in this profile was extracted from current documents filed with the SEC, the company web site and other publicly available sources deemed reliable. The information herein is not intended to be personal legal or investment advice and may not be appropriate or applicable for all readers. If personal advice is needed, the services of a qualified legal, investment or tax professional should be sought.Please read our full disclaimer at
WealthResearchGroup.com/disclaimer